Watch exclusive classic FM sessions filmed at the National Portrait Gallery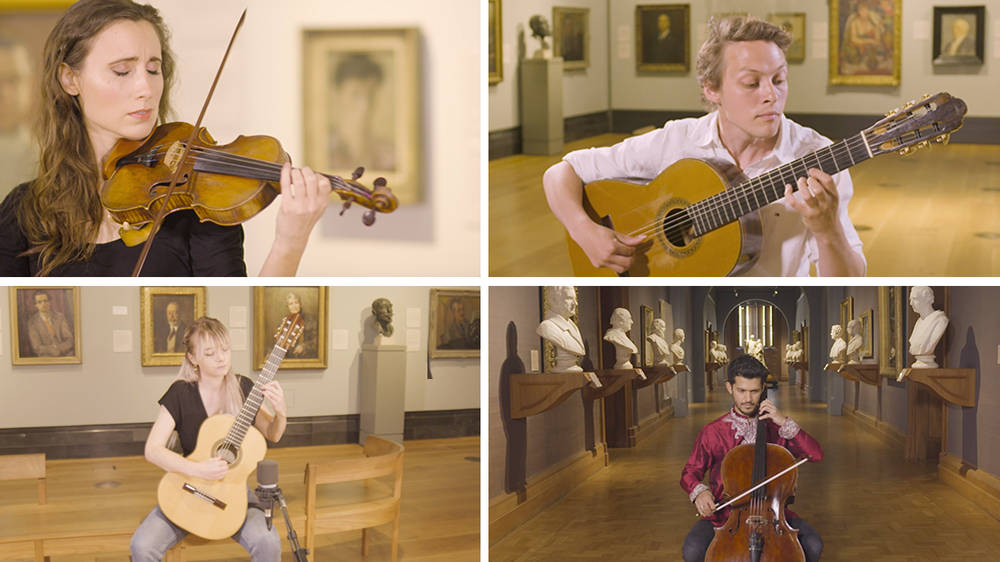 9 July 2020, 10:08 | Updated: July 9, 2020 11:55
Watch sessions from brilliant musicians, including violinist Jennifer Pike and rising star guitarist Alexandra Whittingham – most of them performing out of isolation for the very first time since the lockdown.
On Monday 22 June 2020, Classic FM was granted access to the National Portrait Gallery (NPG) in London.
Violinist Jennifer Pike, guitarist Alexandra Whittingham, cellist Ashok Klouda and guitarist Andrey Lebedev performed exclusive live sessions, most of them performing outside their homes for the very first time since the start of the coronavirus lockdown in March – watch full sessions above.
Pike carried out The ascending lark – a track she released on her new recording this month – overlooked by a portrait of her composer Ralph Vaughan Williams, and guitarist Alexandra Whittingham chose a work by romantic composer Catharina Pratten, who also has portraits in the gallery. Whittingham has just signed with Delphian Records.
Read More: Watch Exclusive Music Month Sessions Live From Classic FM With MILOÅ >
Music at the National Portrait Gallery and the National Gallery
The National Portrait Gallery is due to close in July 2020 for a major renovation, so our artists and their sessions have said goodbye to gallery spaces with the finest music, before reopening to the public in 2023.
NPG, which aims to showcase portraits of people who have really made – and do – British history, is home to numerous paintings and sculptures of musicians and music influencers past and present, including the formidable portrait of Ralph Vaughan Williams by Sir Gerald Kelly, Kenneth Green well-known painting of Benjamin Britten and his life and work partner, Peter Pears, and a sculpture of the great conductor, Sir Thomas Beecham, among countless others.
Its neighboring gallery, the National Gallery, also has a history of music filling its spaces. During World War II – from October 1939 to April 1946 – pianist Myra Hess gave daily public concerts at the National Gallery to boost morale.
And now, after three months of silence in public spaces due to the coronavirus pandemic, NPG has helped us restart live music …
Alexandra Whittingham, guitar
'Forget' by Catharina Pratten
Guitarist Alexandra Whittingham performs "Forgotten" by 19th century composer Catharina Pratten (see below).
Catharina Pratten – also known as Madame Sidney Pratten – was an influential virtuoso and guitar teacher, who has two portraits hanging at the NPG. Her contribution to music – and in particular to guitar music – was significant: in addition to writing plays, she was considered by the age of 20 to be London's foremost guitar teacher, even teaching to Queen Victoria's daughter Louise, Princess of Wales.
As we take a moment to celebrate a brilliant female songwriter and teacher, we are also delighted to note that Whittingham performed her session dominated by a portrayal of suffragette leader Emmeline Pankhurst.
Jennifer Pike, violin
'Sarabande' from the Partita in D minor by JS Bach
The ascending lark by Ralph Vaughan Williams
Pike performs breathtaking Bach track accompanied, then uses the empty gallery to leave Vaughan Williams The ascending lark really soar in an unaccompanied version (see below).
Jennifer Pike's Elgar releases July 31, 2020 on Chandos.
Andrey Lebedev, guitar
"Lamentos do morro" by Garôto
Lebedev performed a summer number by Brazilian guitarist-composer Garôto. Garôto – aka "The Kid", real name Anibal Augusto Sardinha – was born in São Paulo in 1915 and had a great influence on classical and acoustic guitar playing.
Ashok Klouda, cello
Suite for cello n ° 5, III. 'Race' by JS Bach
Suite for solo cello, VI. Natalie Klouda final
Klouda performed in the Victorian galleries. Her unaccompanied Bach program – and composer Natalie Klouda's contemporary response to Bach – echoed through the magnificent space before the evening came to peek around the shadows.
Special thanks to the National Portrait Gallery. Visit www.npg.org.uk to know more.