The Outwin 2022 at the National Portrait Gallery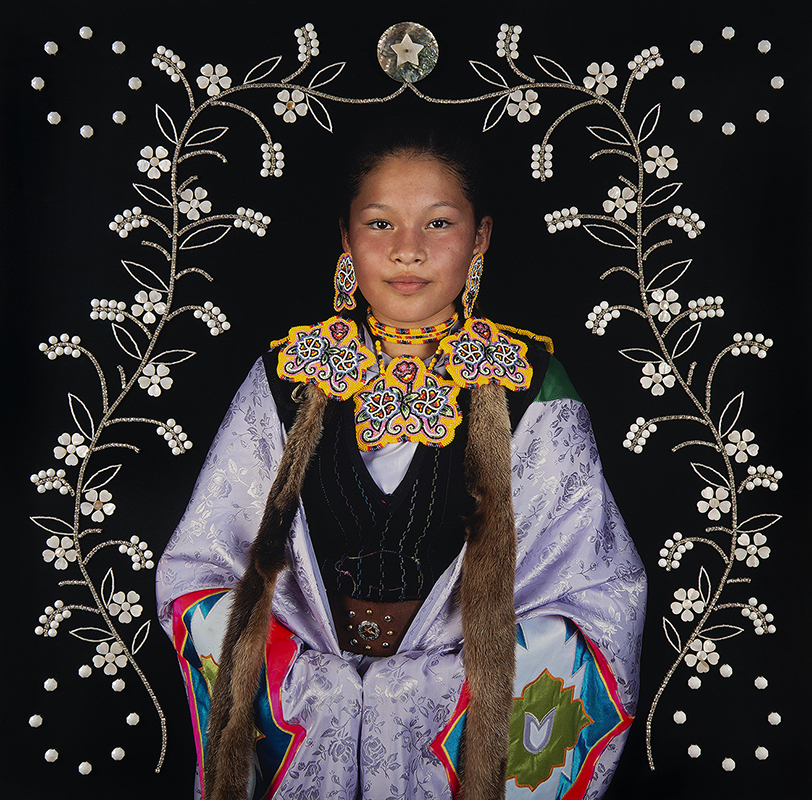 Every three years, the Smithsonian's National Portrait Gallery presents the finalists of the Outwin Boocher Portrait Competition, named after a late benefactor. The 2022 edition features a total of 42 works by American artists spanning a wide range of media and mixed media, selected from over 2,700 submissions by a jury of seven judges.
Alison Elizabeth Taylor won first prize for Anthony Cuts under Williamsburg Bridge, Morninga "hybrid marquetry" multimedia image paying homage to a Brooklyn neighborhood barber by the artist who took to the streets as a Black Lives Matter-inspired fundraiser for organizations working for social justice.
The second Outwin 2022 prize was awarded to Eliza Leonarda multi-layered portrait by Native American artist Tom Jones of a champion dancer/wrestler embellished with beads, rhinestones and culturally significant shells sewn directly onto the print.
Third prize went to untitled (male)Lao American photographer Pao Houa Her's black-and-white image of an elderly person who emigrated to the United States as a Hmong refugee decades ago, seen positioned in front of a printed studio background alongside fake plants.
Four other multimedia works earned a Commended or Honorable Mention, including Killed Negative #13/After Arthur Rothstein by Joel Daniel Phillips with Quraysh Ali Lansana, Stuart Robertson's Self-Portrait of the Artist, People of the Sun (Grandmother and Grandfather Santana) by Vincent Valdez, and Milk by Elsa María Meléndez.
Popular
Early 2023 Grammys Predictions: Harry Styles, Bruno Mars and Adele for Album of the Year
At least nine of the remaining 35 artworks have some degree of LGBTQ relevance due to artist or artistic content, including:
Dad, at Manmade Pondpoignant triptych by gay photographer David Hilliard depicting the coffin-shaped urn containing the ashes of his father, a victim of COVID-19.
Shira and Saraha portrait by Jess T. Dugan of two women facing the camera in a tight, tender embrace.
Darkroom mirror (0X5A0752)Paul Mpagi Sepuya's thoughtful, partly obscured portrait of two intertwined naked gay black men, photographed in profile in such a way as to make them both visible and anonymous.
Thank you Jesus, for what you are going to doa 20-minute digital video by queer and atheist artist Lois Bielefeld documenting her evangelical Christian mother's devotional routine and contemplating the ideological divides between them.
A portrait of the comet boy carrying memoriesan intricate, abstract self-portrait by Korean-American queer artist Timothy Hyunsoo Lee.
Wild flowersan improvised oil painting by non-binary artist Maia Cruz Palileo in their "tropical gothic" style inspired and evocative of the resilience of their Filipino ancestors.
Popular
Baltimore Sound: An Interview with Playwright R. Eric Thomas
Taishya, riding high on the ocean of stormsa portrait of a friend, posed against a lunar background, part of Paula Gillen's series of symbol-rich digital photomontages of women in space that combine original photography with existing imagery.
Online and in person until February 26, 2023.
The National Portrait Gallery is at 8th and F Streets NW.
Call 202-633-8300 or visit www.npg.si.edu.