The National Portrait Gallery increases female representation in its collection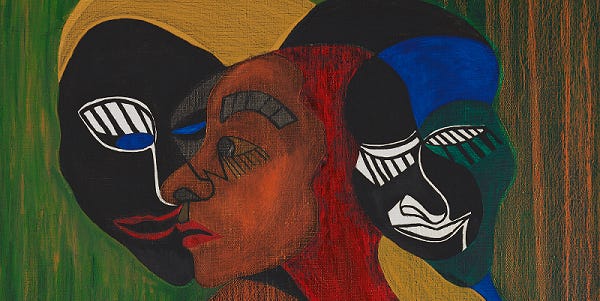 The National Portrait Gallery has added five new self-portraits to its collection, all by female artists who have helped shape British culture. Featuring works spanning the past 50 years by Celia Paul, Chila Burman, Susan Hiller, Rose Finn-Kelcey and Everlyn Nicodemus, the pieces address issues of gender identity and gender stereotypes.
The web of Nicodemus Självporträtt, Åkersberga (1982) depicts multiple layers of her face in vibrant colors to represent her many roles as a woman – artist, writer, mother, wife – and is the first self-portrait painted by a black artist to enter the collection of the gallery.
The photographic room self divided (1974) by Finn-Kelcey shows the artist split in two, the different sides of her seated on a bench in Speaker's Corner in Hyde Park engaged in conversation with each other. The location has been a site of public speeches and debates since the mid-19e century, and subsequently the work emphasizes the importance of the platform of female voices. Similarly, Burman goes in two halves in his room Aphrodisiacs being socially constructed (1988): on the one hand represented as a powerful warrior, on the other as a young woman subjected to the male gaze.
the work of Paul, Portrait, Downcast Eyes (2019) reflects on its position within the artistic canon. It was created in tandem with his memoirs from the same year, titled self-portrait, in which she describes her relationship with Lucian Freud – a relationship that has in the past overshadowed her own outlook. Finally, in Ace (recovered) (1972-1973), Hiller combines self-portraits taken in photo booths at different times; a medium favored by the artist for its accessibility
The acquisitions are the result of a three-year partnership between the National Portrait Gallery (which is currently closed for a major refurbishment) and Chanel, which focuses on promoting female visibility in art and championing the role of women in culture, which has all too often been neglected. The project, titled Reframing the Narratives: Women in the Portraitwill increase the proportion of female artists and sitters exhibited at the gallery when the gallery reopens in 2023.
By actively redressing the ratio of works created by women and men on its walls, the gallery takes an important step in guiding the course of history so that in the future, women artists with diverse histories are celebrated on an equal footing with their men. counterparts.
This content is created and maintained by a third party, and uploaded to this page to help users provide their email addresses. You may be able to find more information about this and similar content on piano.io