The National Portrait Gallery announces the premiere of "Birthright" by artist Maren Hassinger | Smithsonian Voices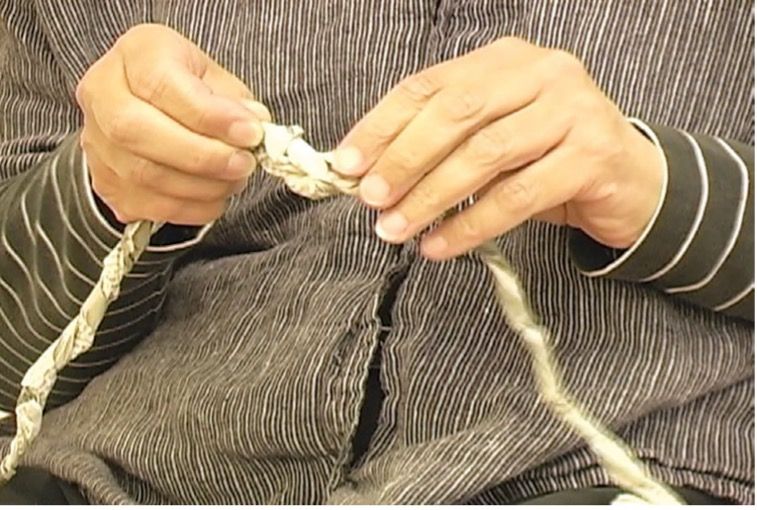 The Smithsonian's National Portrait Gallery announces a new commission by New York-based artist Maren Hassinger that will premiere in the museum's Great Hall on June 25 at 2 p.m. Postponed to summer 2020 due to the global pandemic, the in-person performance is the latest iteration of the museum's "IDENTIFY" series dedicated to performance art. "Birthright" (2022) explores the complexity of individual family histories through collective rituals. This live performance is based on the artist's 2005 video of the same name, which documents the artist's encounter with his uncle in an exploration of the paternal branch of his family tree.
"We are delighted to finally present this new work by Maren Hassinger to the National Portrait Gallery," said Charlotte Ickes, Curator of Time-Based Media Art and Special Projects.
Hassinger's performance offers visitors a hands-on, hands-on experience. After screening her 12-minute video work "Birthright," Hassinger will teach visitors the meditative ritual of twisting newspaper scraps that she performs throughout the video. As visitors handle the diary, they are invited to share their own family stories. An American Sign Language interpreter will be present.
Hassinger's "IDENTIFY" commission is the culmination of a trio of events from fall 2021 through summer 2022 celebrating the artist's first public projects in Washington, D.C. In fall 2021, the Portrait Gallery and the Smithsonian American Women's History Initiative hosted a virtual screening of Hassinger's video "Birthright" (2005), which was later acquired for the Portrait Gallery collection. After the screening, Hassinger created the site-specific sculpture titled "Monument," which she created outdoors in conjunction with volunteers from Washington's Dupont Circle neighborhood. This project was part of "Monument and Marker," presented by the Golden Triangle Business Improvement District and the Smithsonian American Women's History Initiative, "Because of Her History."
Born in 1947, Hassinger grew up as an avant-garde artist in Los Angeles in the 1970s. In addition to her solo practice, she participated in the free artist collective Studio Z in Los Angeles, alongside notable peers such as Senga Nengudi, Ulysses Jenkins and David Hammons, before moving to New York in 1984. His work spans sculpture, video, performance and public art. In the mid-1990s, Hassinger was director emeritus of the Rinehart School of Sculpture at the Maryland Institute College of Art in Baltimore. His work is held in the permanent collections of major institutions in Baltimore, Chicago, Dallas, Los Angeles, New York and Washington.
Created in 2015, the Portrait Gallery's "IDENTIFY" series explores portraiture through performance art. Hassinger joins "IDENTIFY" commissioned artists María Magdalena Campos-Pons, Jeffrey Gibson, Sandy Huckleberry, James Luna, JJ McCracken, Martha McDonald, Lee Mingwei, Wanda Raimundi-Ortiz, Sheldon Scott and Wilmer Wilson IV.
Connect with the museum at npg.si.edu, Facebook, Instagram, Twitter and YouTube.