The National Portrait Gallery announces that Elsa María Meléndez has won the People's Choice Award for the 2022 Outwin Boocher Portrait Competition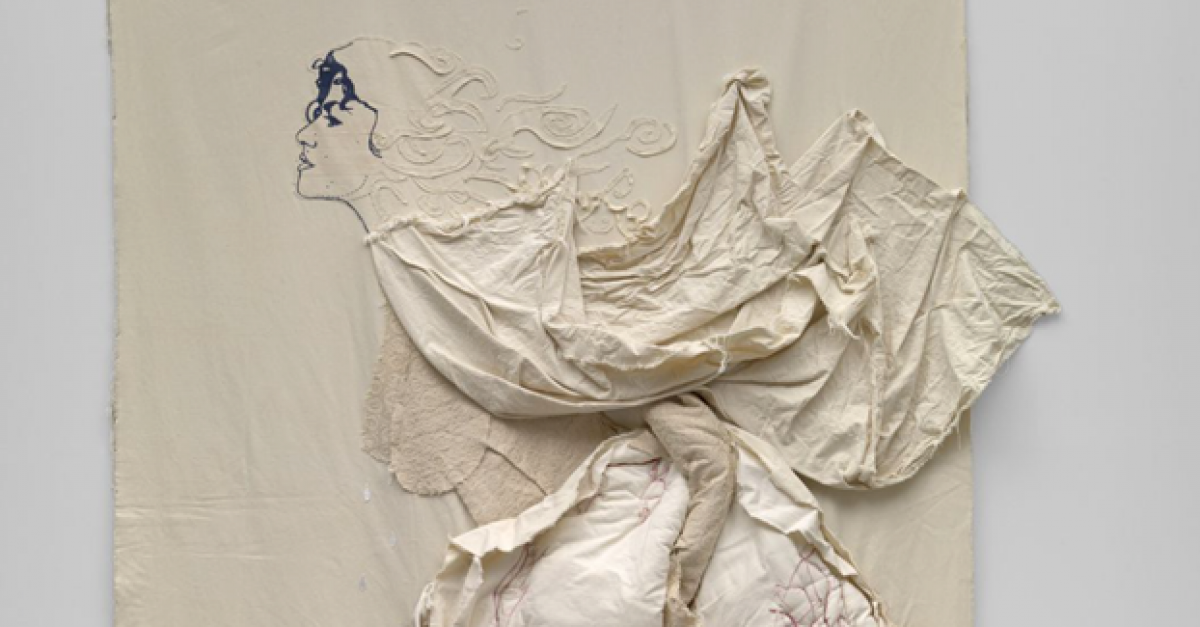 The Smithsonian's National Portrait Gallery has announced that Elsa María Meléndez of Puerto Rico has won the People's Choice Award for the museum's 2022 Outwin Boocher Portrait Competition. Organized every three years, the National Portrait Gallery competition gives rise to an exhibition highlighting the latest in contemporary portraiture from the United States and its territories. As part of the competition, the Portrait Gallery invites viewers to vote for their favorite finalist included in the resulting exhibition of the competition. Viewers, both in-person and remotely, were able to vote online for their favorite of the 42 portraits included in "The Outwin 2022: American Portraiture Today." Meléndez's winning textile work "Milk" (2020) remains on display in Washington, D.C., through February 26, 2023, before the exhibit tours select cities in the United States
Created six months after the COVID-19 lockdown, "Milk" depicts Meléndez charging forward in a large-scale portrait using her own likeness combining silk, drawing and various sewing techniques. The figure carries a limp bull with milk dripping from its breasts in a commentary on the gender-based violence that has escalated in Puerto Rico during the pandemic. Feminist organizations have taken to the streets to demand the government declare a state of emergency in response to an increase in domestic violence against women. The milk reaffirms the strength of women as a life force while the bull, momentarily tamed with breast milk, could be read as a critical commentary on how women can also "suckle the beast of patriarchy," Meléndez said. .
"Our congratulations go to Elsa María Meléndez whose portrait encapsulates the artist's fight for gender equality," said Taína Caragol, director of the Outwin Boochever 2022 portrait competition and curator at the National Portrait Gallery. "It is also remarkable that voters recognized a work of art that communicates the universality of women's struggle for equity and respect both in Puerto Rico and around the world. This is the second consecutive time that a Puerto Rican artist has won the People's Choice Award. We are thrilled for them and for all Latinx artists.
"The Outwin 2022: American Portraiture Today" will tour beginning in 2023 at select venues, including the Orlando Museum of Art, Orlando, Florida, from April 8, 2023 through October 1. 8 2023; Ackland Art Museum, University of North Carolina at Chapel Hill, NC, November 3, 2023–Jan. 21 2024; and Michele and Donald D'Amour Museum of Fine Arts, Springfield, Massachusetts, from February 17, 2024 to May 5, 2024.
The competition and exhibition are made possible by the Outwin Boochever Portrait Competition Endowment, which was created by long-time National Portrait Gallery guide Virginia Outwin Boochever. The endowment is maintained by his family.
National Portrait Gallery
The Smithsonian's National Portrait Gallery tells the multifaceted history of the United States through the individuals who have shaped American culture. Spanning the visual arts, performing arts and new media, the Portrait Gallery portrays poets and presidents, visionaries and villains, actors and activists whose lives tell the story of the nation.
The National Portrait Gallery is located at Eighth and G Streets NW, Washington, DC Smithsonian Information: (202) 633-1000. Connect with the museum at npg.si.edu and on Facebook, Instagram, Twitter and YouTube.
# # #
SI-348-2022