Spring Fest showcases art mediums available to students – The Connection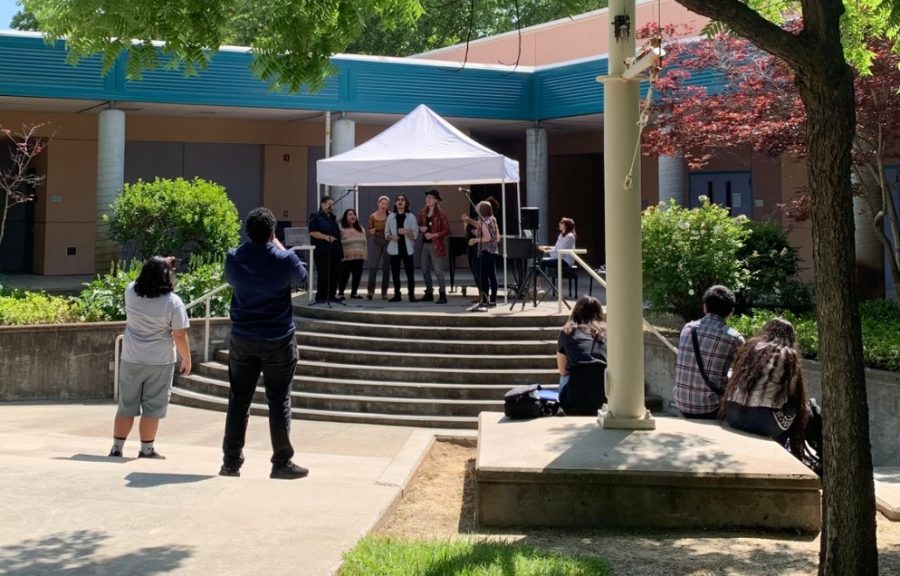 The Arts, Media and Entertainment department held a Spring Fest celebration Tuesday through Thursday at the AME Quad.
The festival had musical performances, open microphones for the audience, chalk art, free hot dogs and more. It was an opportunity for the department to showcase the various art forms it offers at Cosumnes River College, said art professor Linda Fitz Gibbon.
"With the door closed, you have no idea what's going on in that room, and I think the clay process is magical," Fitz Gibbon said. "I just figured if my students that I sense working with people drop by, they're going to be excited, hopefully, to sign up for the course."
Fitz Gibbon said she will be teaching clay and sculpture classes in the fall semester.
"Clay is an infectious medium, it's like getting your hands dirty, it's like playing in the mud or in the sandbox when you were little," said Fitz Gibbon. "I think everyone should have this opportunity to explore and learn about themselves and learn more about art."
Fitz Gibbon went on to say her thoughts on Spring Fest.
"Yeah, it's a great opportunity to get people to react and see what we're actually doing," said Fitz Gibbon.
25-year-old studio art major Antonio Osorio-Santiago said it was interesting to see the other types of art classes available at CRC.
"I think when you're an art student, we tend to be very isolated in your own medium," Osorio-Santiago said. "For example, I'm a studio art student, so seeing a lot of similar performances from the theater and then higher performances, it was really interesting to realize that it's also happening at the same time."
Twenty-two-year-old undeclared valedictorian Vinculado Amihan said she thought Spring Fest was great overall.
"It gives us, as art students, more opportunities to network with other students and teachers," Amihan said. "I actually got to meet a few other students from the ceramics class which was really great."
Amihan said she was shocked to see the Spring Fest attendance.
"Since all the people came in and were like 'wow, so we're known, like we're a whole community,'" Amihan said.