New MOWA show features Colt mural for first time in nearly 50 years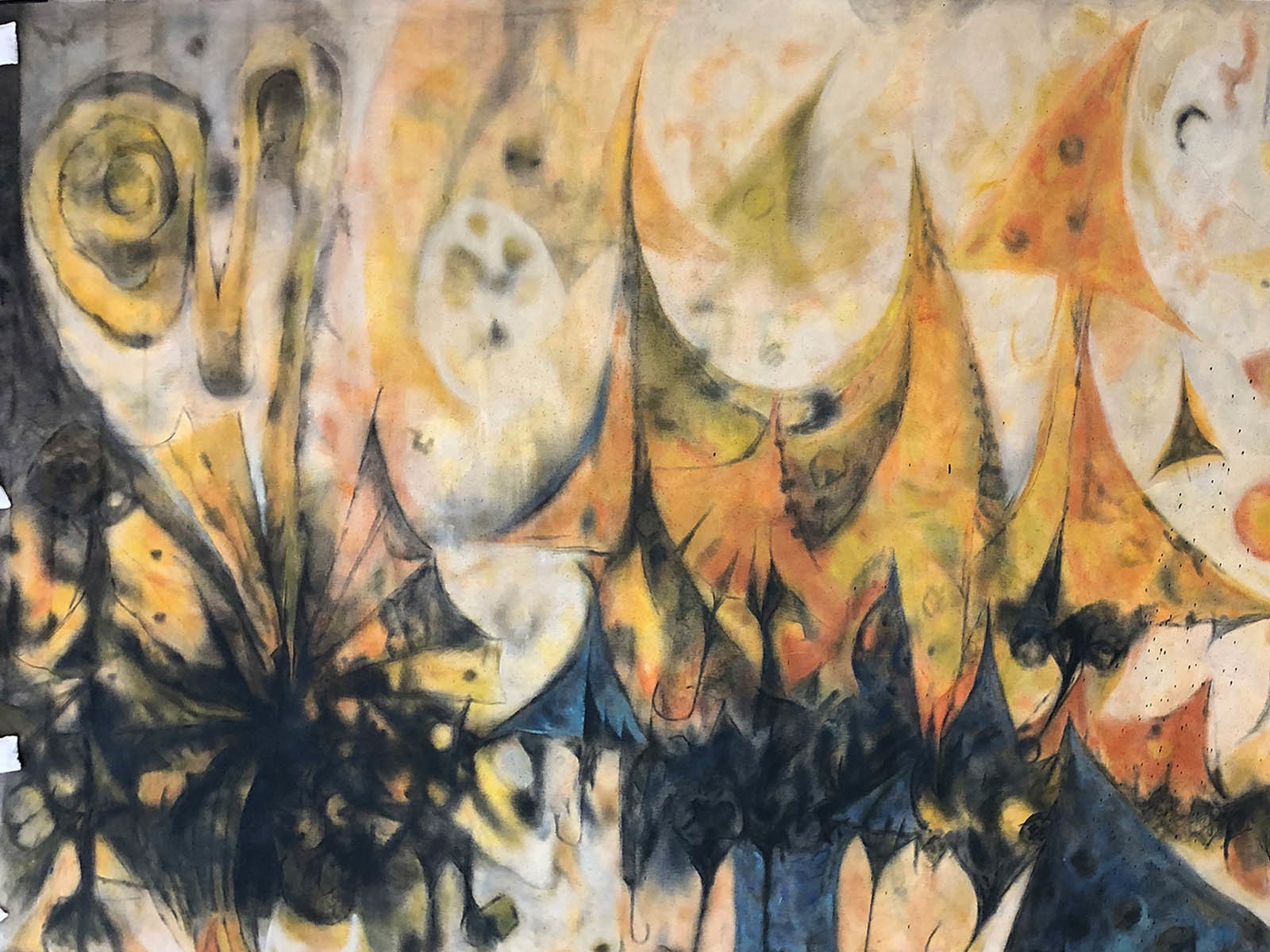 A 22.5 x 8.5-foot mural painted for Marquette University by a UW-Milwaukee art professor is among works included in a new exhibit at the Museum of Wisconsin Art in West Bend.
"Magic Wilderness: Dreamscapes of the Forest" includes pieces from 16 artists who have turned their eyes to the wilds of Wisconsin. It will begin with a vernissage with the artists on Saturday 10 October. 22 from 2 p.m. to 4 p.m., then until January 15.
One of the highlights of the show is the massive John Colt mural, commissioned in 1958 by 15 Milwaukee women to honor the Reverend John J. Walsh, and installed in Bellarmine Hall, which housed the Teatro Maria of the theater program (as well as the campus bookstore and the university's doctoral school).
The women—from the Women's Club of Wisconsin—had participated in Walsh's summer theater program.
After arriving at Marquette in 1951, Walsh led the work to transform Marquette's after-school drama club into a professional theater program. He created the Teatro Maria in the Bellarmine Hall of 1910 – now the parish hall of Gesu.
After the Helfaer Theater in Marquette was built in 1973, the mural was removed and returned to Colt. In 2021, the Kohler Foundation and Colt's widow, Ruth Kjaer, donated it to MOWA. Colt died in 1999.
This is the first time it has been publicly exhibited in almost half a century.
Colt's colorful and abstract composition is, in MOWA's words, "an evocative composition of variations on themes drawn from natural forms." The wild mandrake leaf is a recurring motif, rendered in Colt's mid-century palette of ethereal orange, green, yellow and black.
The exhibition, conceived as an imaginary ecosystem, includes paintings, sculptures, photographs and mixed media by Tom Uttech (including a work included in the Whitney Biennial in 1975), Jacob Bautista, Theodore Czebotar, Kyoung Ae Cho, Maureen Fritchen, Kevin Giese, Mary Hood, Andrew Khitsun, Gloriann Langva, Barbara Manger, Shane McAdams, Cassandra Smith, Fred Stonehouse, Brooke Thiele and Eugene Von Bruenchenhein.
MOWA will also host a trio of talks on Saturday afternoons at 2 p.m. related to the show, including "Fantastic Fungi," Nov. 19, with Glen Stanosz, professor of tree and forest health at the University of Wisconsin. -Madison; "Aldo Leopold – Natural Soundscapes and Spirit of Place," Dec. 17, with retired University of Wisconsin-Madison professor Stan Temple; and "Wisconsin's Magic Realism," Jan. 14, with Minneapolis Institute of Art painting curator Robert Cozzolino, PhD.
The Wisconsin Art Museum in West Bend is open Wednesday through Sunday, 9:30 a.m. to 4 p.m. Admission starts at $15 and includes unlimited visits for a full year.