Hilliard Art Museum's spring offerings include five exhibitions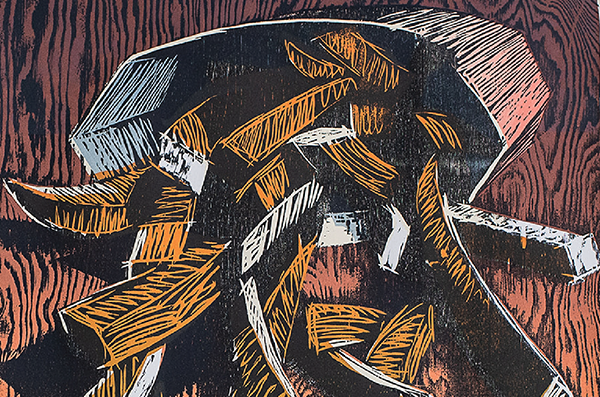 Photos that document the disappearance of black-owned cocktail lounges in New Orleans, abstract compositions made of jewelry and toys, and a multimedia installation are among the spring exhibits at the Hilliard Art Museum – University of Louisiana at Lafayette.
The same goes for some exhibitions with very close links to us. The Hilliard University Museum of Art will feature a collection of prints produced by guest artists at UL Lafayette's Marais Press with student assistance. Another Hilliard exhibition in place this spring will feature selected works from the museum's permanent collection.
A description of each of the exhibits in place this spring is below.
"Twenty Years of Marais Press: Imprinting a Campus and Collection," will offer a retrospective of work produced at UL Lafayette's printmaking studio at Fletcher Hall. The selections highlight the mode of learning by learning in the press. It has hosted over 200 guest artists from around the world who come to work and mentor students. The exhibition will end on August 20.

"Deep Look: Selections from the Permanent Collection" will feature some of the finest works from the Hilliard Art Museum. The exhibit also aims to showcase the museum's new educational and interpretive strategies, which include additional labels, prompts, and language designed to enhance visitors' understanding. It will continue until June 30.

"L. Kasimu Harris: Vanishing Black Bars & Lounges" will feature photographs by Harris that depict the disappearance of black-owned bars and lounges on St. Bernard Avenue in New Orleans' 7th Ward. Gathering places were pillars of the community, places of refreshment and camaraderie, and centers of cultural expression.The exhibition will be in place until July 30.

"Shawn Major: Schema" will showcase the artist's layered abstract compositions. Her pieces are made with materials such as lace, jewelry, plastic toys and other trinkets. The works serve as metaphors for how culture and belief systems are constructed by people. The exhibition will be in place until January 7, 2023.

"Talking to Death: An Allegory for Sculpture" is a multimedia installation by Trevor Gould. It examines sculpture in the 21st century as artists turn to gender-nonspecific studio practices. The installation is indicative of a general tendency for artists to work in a way that is difficult to define. It ends on July 9.
The Hilliard University Art Museum has 11,000 square feet of gallery space and is the largest exhibition space between Houston and New Orleans. It houses a collection of European, Asian and American art from the 18th to the 21st century. In addition to its permanent collection, it offers temporary exhibitions of regional, national and international art.
The museum is located at 710 E. St. Mary Blvd., on the UL Lafayette campus.
Admission to the Hilliard University Art Museum is $7.50 for adults, $6 for adults over 62, $4.50 for students ages 5-17, and free for children under 5 years. UL Lafayette students, faculty and staff can visit the museum for free with their university ID card.
To learn more about the museum, exhibits, artists and programs, visit hilliardmuseum.org or call (337) 482-2278.
Photo caption: Five exhibitions that collectively feature photography, mixed media, prints produced by guest artists at UL Lafayette's Marais Press with the help of students (above), abstract compositions, and selected works from the museum's permanent collection are in place this spring at the Hilliard Art Museum – University of Louisiana at Lafayette. Image submitted