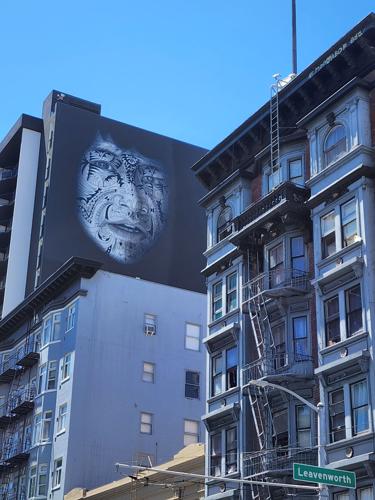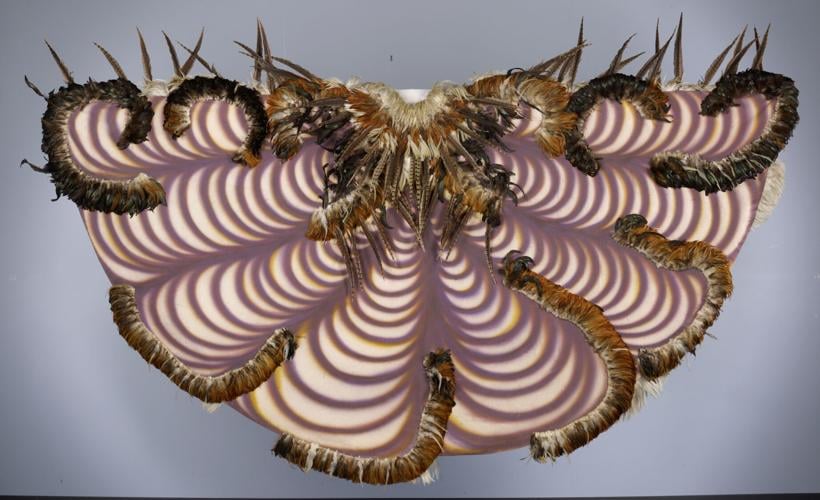 The image of Carlos Villa's face which now sits atop a 16-story building in the Tenderloin neighborhood – showing Villa fully tattooed from forehead to chin as he looks directly at the viewer – replicates a work of art in a major exhibition dedicated to Villa which opened on Friday in San Francisco. The same image is on the cover of the exhibition catalog, and it alludes to a now revered trait of Villa: He took risks. With his art. With his gaze. With the dozens of courses he taught and the symposia he organized and the people he influenced.
By the time Villa died in 2013, he had amassed a lifetime of opportunity – and a lifetime of art, much of it acclaimed, but much of it unequally viewed, so much so that the name "Carlos Villa" may not register well beyond certain artistic circles. Who is Carlos Villa?
He was the visual artist raised in the Tenderloin, the son of immigrants from the Philippines, who decided art was his calling after serving in the U.S. military during the Korean War – and who grew a decade after graduating from what is now the San Francisco Art Institute but was then the California School of Fine Arts. Villa's history is so circuitous that "big" (which included charging for a marquee at a de Young museum exhibit in 1972) happened often but inconsistently, as Villa changed its approach to artistic creation and has incorporated everything from feathers to graph paper.
The Villa we encounter in "Carlos Villa: Worlds in Collision," a sprawling exhibition at the Asian Art Museum, and in an accompanying exhibition at the San Francisco Arts Commission Galleries ("Carlos Villa: Roots and Reinvention") , is a man who finally turned the art world upside down for the better. Yet he never lived to see his own creations displayed as they are now in his native San Francisco, where "Carlos Villa: Worlds in Collision" arrives after an acclaimed run at New Jersey's Newark Museum of Art. (The two San Francisco exhibits are the only exhibit at the Newark Museum of Art.)
Here's something to think about: Nine years after his death, Villa is the first Filipino American artist to get a major museum retrospective. A collaboration with the Smithsonian, "Carlos Villa: Worlds in Collision" is a landmark exhibit worth visiting for that reason alone. But the main reason is this: Villa created unique and thought-provoking art, especially in the 1970s and 1980s when he was in his 30s and 40s and tattooed photo prints of his face; created cloaks and cloaks of feathers and paint which, when stretched to their fullness, were like mystical shrouds of otherworldly plumage; and created constellations of abstract paintings featuring bone, hair, blood, and other offerings that twisted, bent, and contorted the canvases with a hypnotic energy that matched Villa's.
So who is Villa? For those who knew him, he was a risk-taker who, yes, was constantly looking for new ways to create art, but who looked for inspiration far beyond art – including history, politics and personnel. An encyclopedic array of ideas, subjects, and people are indirectly embedded in Villa's art and directly evidenced in the timeline of his life on display.
There to See: The History of Filipino Immigration to America, which included US government policies that required Filipino men to work and women to join them in immigration. But also by name: the Belgian surrealist René Magritte and the Australian shamans called kurdaitcha, who both influenced Villa's pulp and feather shoes called "Artist's Feet". And there too by name: French artist Henri Matisse, whose clothes for a French church influenced Villa's majestic 1971 work "Painted Cloak".
In the 1990s, when Villa was a recognized art professor at the San Francisco Art Institute, he organized a series of symposia which took the title "Worlds in Collision", and which featured a range of artists and d academics, including Angela Davis, bell hooks and performer Guillermo Gómez-Peña. Villa made his own performance art, which is detailed in the galleries of the San Francisco Arts Commission, where visitors see revealing photographs of Villa's "Ritual" work from 1980. In this work, Villa walks around naked in a place to make art with your body – accompanied by music, including the saxophone of acclaimed artist Leo Valledor, who was Villa's cousin and a major influence.
In the 1970s, Villa lived out the ideals of the symposiums through his tattoo prints and "Painted Cloak", which is by far the most striking work in the Museum of Asian Art. What can you say about a cape full of feathers, handprints, semi-circular patterns and a taffeta lining that make it look like a beautifully winged being? Yes, you can imagine "Painted Cape" flying away! And, yes, you can imagine wearing it! And, yes, you can imagine a high-end fashion designer seeing it for the first time and paying Villa hundreds of thousands of dollars to make "Painted Cloak" (now owned by SFMOMA) a hot new sartorial statement. , with the Villa name on each coat!
But here's a detail about Villa that will be apparent to anyone who comes across his work: Villa wasn't in it for the fame – at least when it came to putting his name to the art. Browsing through the galleries of "Carlos Villa: Worlds in Collision" and "Carlos Villa: Roots and Reinvention", I didn't see a single "Carlos Villa" signature on his art. I thought how appropriate that was. Villa's works draw from so many sources of inspiration that he apparently thought of his art as a collective production – reclaiming his Filipino heritage and acknowledging the multitude of influences on his life, including jazz, sculpture and African rituals, the art of Oceania, and being a beloved student and then teacher at San Francisco's most vaunted art school.
"When he was at the San Francisco Art Institute after serving in the Korean War, he went to one of his painting professors and asked, 'Where can I find information on Filipino American art? ' And her teacher said, 'There's no one to be found,'" said Trisha Lagaso Goldberg, who along with Bay Area art teacher and exhibit co-curator Mark Dean Johnson, and artist Sherwin Rio co-edited the exhibition's incisive catalog. "Carlos was a local hero. … And we really wanted to share who Carlos really was."
By the end of his life, Villa was known as much for his educational work as for his art. Both meant the world to him, and an entire gallery of the Museum of Asian Art is devoted to the work of Villa's Filipino students who went on to create their own indelible art. Among the stars is "TNT Traysikel" by Michael Arcega and Paolo Asuncion, which is a custom Filipino motorcycle and sidecar with flashing lights, a working karaoke system and signage that reads "POSITIVELY FILIPINOS ALLOWED".
Carlos Villa didn't live to see these two exhibits and he didn't live to see the public version of "Tat2" which is in the Tenderloin at 350 Turk St. A former Villa student, Mario Ayala, did this work last year as a tribute to Villa.
It's only steps away from 350 Turk St. the Asian Art Museum and the San Francisco Arts Commission Galleries, but in between are the Tenderloin Blocks where Villa grew up. Now he's back in the neighborhood – both in a 16-story building and in exhibits that are brimming with the kind of glamor, celebration and attention to artistic detail he's no doubt dreamed of all his life.
Saturday at 3:30 p.m. gathering for a procession in front of the Museum of Asian Arts (200 Larkin Street), followed by a reception from 4 p.m. Sequel 126).
IF YOU ARE GOING TO
"Carlos Villa: Worlds Colliding"
Where: Asian Art Museum, 200 Larkin St., SF
When: Until October 24
Tickets: $14-$20
Contact: (415) 581-3500, asianart.org
"Carlos Villa: roots and reinvention"
Where: San Francisco Arts Commission Galleries, 1 Dr. Carlton B. Goodlett Place, Ground Floor, SF
When: Until September 3
Tickets: Free
Contact: (415) 252-2244, sfartscommission.org