Exhibition review: Australian Love Stories, National Portrait Gallery, ACT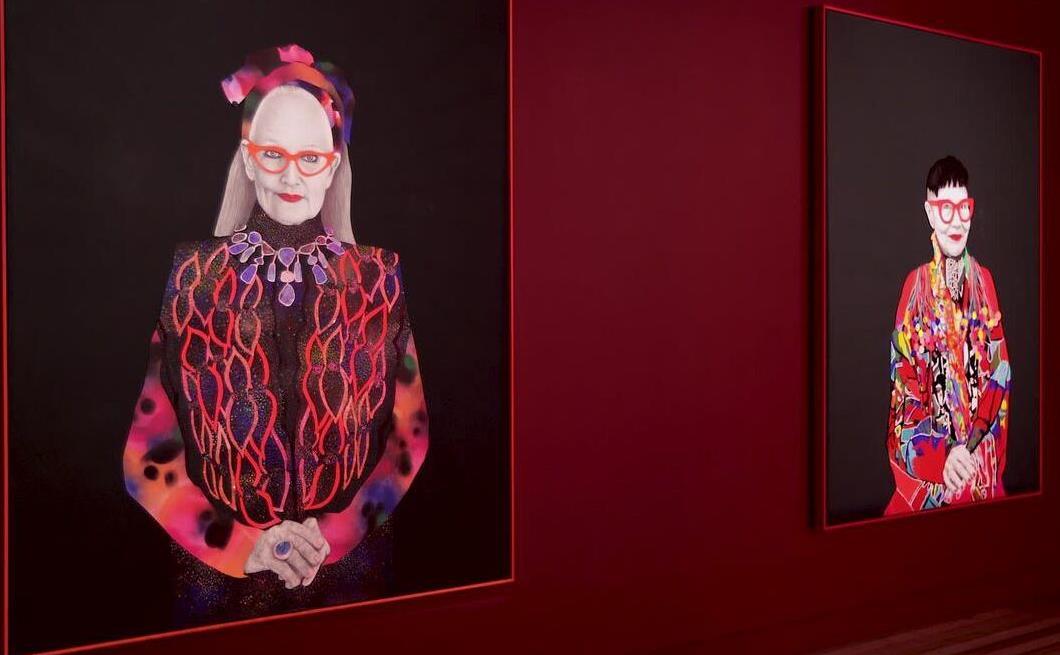 Australian love stories is an exciting and well-curated new exhibition at the National Portrait Gallery in Canberra. The exhibition is a fine collection of portraits featuring many forms of love, including family, friendship and romance. Portraits vary in medium, including paintings, photographs and films. There are some familiar faces in the exhibit, but the stories are more interesting than the famous names. Australian love stories looks like a love letter to the portrait itself and reminds us of the power of a single image.
One of the first paintings you see in the exhibition is You are the most beautiful thing about me: a self-portrait with Kel and Arella by the winner of the Archibald Del Kathryn Barton Award. The painting, which shows the three figures against a moss green background interspersed with Australian flowers and a four-leaf clover, was born out of Barton's fierce love for her family and depicts herself and her two children. Not considering herself particularly maternal, Barton was surprised and delighted to learn how much she loved her first son when he was born.
Jenny & Jack is a pair of artist Jenny Sages paintings of herself and her late husband Jack. my Jacques, a portrait of her husband sitting in a golden glow by the window, was painted during his lifetime. It stands next to Jenny's self-portrait, After Jacques, painted a year later after the death of her husband. Her grief is immediately evident as the portrait is cold and gray in stark contrast to the brightness of her husband. Both paintings are worth seeing up close due to Sages' technique of scraping off the wax and thus creating a lot of detail.
Australian love stories looks like a love letter to the portrait itself and reminds us of the power of a single image.
Another romantic highlight of the collection is Adrian Cook's beautiful photograph of conservator Kylie Kwong and artist Nell. Kylie & Nell shows the couple standing in a friend's backyard florist shop in Potts Point, where they were married in 2019. It's a lush, lush garden that still maintains the comfort and familiarity of its own backyard . Kylie and Nell stand in the middle of the photo, surrounded by flowers, their happiness made evident by the smiles brightly on their faces.
Judith Wright with Barbara Blackman is a painting by Charles Blackman of the poets Barbara Blackman and Judith Wright. Wright and Blackman's intimate friendship is evident from the moment you see the painting, the way they look at each other, and the sea of ​​blue around them, more intense in the immediate space between them. When they met in the 1940s, Blackman was starting to lose his eyesight while Wright had already suffered from hearing loss for several years. They wrote letters to each other during a 50-year friendship and last met at the National Portrait Gallery in March 2000.
Carla Fletcher's Jenny & Linda consists of two vibrant portraits of Linda Jackson and Jenny Kee, two friends and former creative partners. While the two portraits are placed separately in their own frames, the paintings are clearly linked in style and color. They each feature a grayscale figure wearing neon pink clothing with bright patterns on a black background. The emphasis on clothing is a nod to the couple's famous work in fashion and design.
Australian love stories contains over 200 works of art and over 80 stories. Through a multitude of different perspectives, a universal theme emerges: that love is something shared.
4.5 stars:
Australian love stories
National Portrait Gallery, ACT
Tickets: $ 15 / $ 12 concession / $ 10 Circle of friends / Free for children under 18
Exhibition until August 1