BFA senior exhibitions continue with seven exhibitions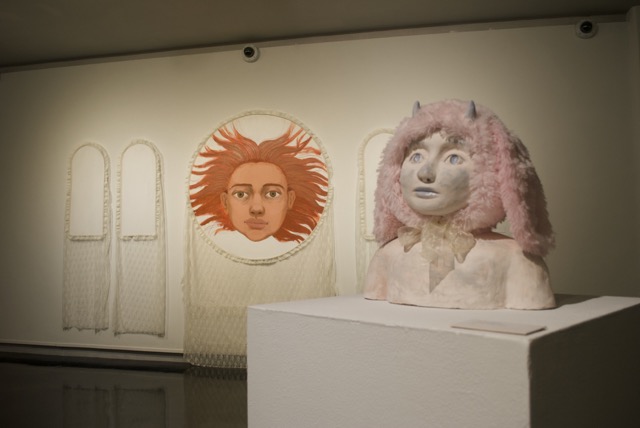 Raleigh High Tower
Lifestyle Editor
[email protected]
A second batch of senior students pursuing their Bachelor of Fine Arts degrees from the Department of Art and Design began presenting their exhibits at the Clara M. Eagle Gallery.
The reception for the latest BFA exhibitions took place on April 29 at the Clara M. Eagle Gallery. At the reception, the artists gave presentations in which they discussed themselves and their exhibits.
This series of exhibitions featured works by studio art majors with concentrations in painting, sculpture, ceramics, photography and graphic design.
Entering the University Galleries through the Mary Ed Mecoy Hall Gallery, visitors are greeted by nature scenes with a focus on painting and graphic design, Rebecca Potts' exhibition, 'Proceed With Caution', is exposed. Potts' exhibit explores nature and national parks through graphic design and oil painting.
Potts' oil paintings depict people in various nature scenes. His painting, "Reflection", depicts two figures walking in single file along a wooded path. In this scene, the character in the back appears to be motionless and watches the other character move along the path.
Potts wrote in his Artist Statements that his paintings explore a dichotomous relationship between comfort and danger in nature.
"To show the tension between the comfort I feel in nature versus the danger that exists, I place myself in paintings as a child and as an adult in situations where the sense of danger or vulnerability is present," Potts wrote.
Potts' design work aims to provide viewers with feelings of familiarity and comfort.
"The colors I use in my graphic design work are warm, natural, tonal colors that visually communicate feelings of familiarity and comfort," Potts wrote.
Malcolm Fife, who specializes in painting, printmaking and ceramics, hosted a show called "Consuming Fashions", which featured commentary on fast fashion and consumerism.
"We live lives that revolve around consuming and buying more than we need," Fife wrote. "Fast fashion feeds on our laziness and encourages our rather lavish spending."
Fife uses several self-portraits throughout his exhibition. Fife wrote on her blog, accessible by QR codes throughout her exhibit, that the self-portraits are "more a portrait of the clothes than of me".
The composition featured in Fife's self-portraits was inspired by Dutch artist Johannes Vermeer and Irish artist Sir William Orpen, Fife wrote in his blog entries.
Fife urged in his artist statement that viewers adopt better fashion practices for themselves.
"Wearing used and second-hand clothes can be a way to make a difference and an easy habit to form," Fife wrote. "In my experience, the vintage clothing community is a safe and supportive place for people of all ethnicities, genders, and sexual orientations."
Graphic designer Lauren Morgan also played an activist role in her exhibit titled "Advocate."
"The Advocate Project is an awareness campaign that combines my training and graphic design skills with my passion for cancer research advocacy and awareness," Morgan wrote in her artist statement.
In her artist statement, Morgan wrote that her project specifically aims to educate viewers about stage four breast cancer treatment and funding gaps.
"The focal point of my show is four posters, which provide insight into the reality of metastatic breast cancer," Morgan wrote. "In these posters, statistics of the disease are spread across the majority of the page, which are highlighted around the wide range of patients it affects."
Another graphic design major, Lauren Powderly, created a basketball team named the "Kansas City Beasts". Powderly used a color palette featuring shades of purple, orange, and black.
"Sports design is marked by the ability to unite people behind a common message," writes Powderly. "This project entwines the energy and unity of sports culture with the essence of clean design. »
Powderly's exhibit includes posters, clothing and an Instagram account.
Art studio specialist Kate Huttunen's 'Fun House' exhibit explored the intersectionality of race and gender.
"I'm interested in conceptions of gender within the black community, including how some roots go back to our ancestors," Huttenen wrote. "Having a mixed gender identity or having no gender at all was more common in many African cultures before the violent whitewashing of colonialism and the heteronormative pressures built into it."
With a focus on sculpture and carpentry, Ash Eve McIntyre's exhibition, 'I Love You: I'm Glad I Exist', included large sculptures of stuffed animals, paintings, ceramics and woodwork. McIntyre's exhibit explores trauma and includes allusions to Greek mythology.
"Many of my works reference Greek mythological stories, such as those in Ovid's 'Metamorphoses,' in which characters often undergo transformation into objects or animals after experiencing a traumatic event," McIntyre wrote.
The final student featured in the BFA's second series of exhibits was the focus on photography, GraciLou Ackerman. Titled "Industreality", Ackerman's exhibition explores buildings and structures and their relationship to memory.
"The days pass, the rain comes and goes; buildings are built, occupied and abandoned," Ackerman wrote in his artist statement. "Restoration and revitalization is a necessity to honor the enchantment that once took place."
The BFA's second set of exhibits can be seen on the sixth and seventh floors of the Price Doyle Fine Arts Building at the Clara M. Eagle Gallery. The exhibition will be visible until Friday, May 6