While most of us were just trying to get by during the recent COVID quarantines, Steven Nelson took on a new, high-level job and moved across the country amid the pandemic.
After more than 20 years in academia, multiple publications, awards and lecturers, Nelson has been appointed the new dean of the National Gallery of Art research institute which promotes studies of production, use and meaning cultural art.
In this position at the Center for Advanced Study in the Visual Arts, Nelson will focus on fundraising, leadership and scholarship work to advance the mission and impact of the center. The research center, which was founded in 1979, has been the epicenter of academic work on a variety of subjects and artistic mediums.
In July, Nelson retired from UCLA where he was a professor for 20 years and taught subjects ranging from African art, black power in art and African architecture. He was also director of the Center for African Studies at UCLA and adviser to UCLA management on strategic planning for diversity and inclusion.
Nelson first joined the National Gallery as an Andrew W. Mellon professor at the Center for Advanced Study in the Visual Arts. In this chair, he wrote two manuscripts for future books titled "Structural Adjustment: Cartography, Geography and Visual Cultures of Darkness" and "On the Underground Railroad".
In addition, he co-edits a project called "The Black Modernisms Seminars," which is a research volume that is part of the Center's initiative on African American Art. The project will be published in 2021.
New role during the pandemic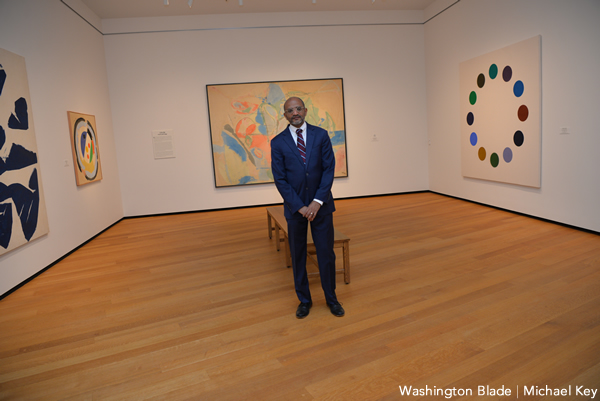 Although he does not yet have a consolidated housing plan and works remotely, Nelson said his transition to a new leadership role has gone smoothly.
"Getting around in a pandemic has been really interesting and complicated to assess, however, it has been strangely more transparent than I thought," he said.
Nelson said the move also acted as a distraction from "all the really terrible things that were going on in the world."
The announcement of Nelson's new role came on March 6, when the coronavirus began to spread. Nelson was working in Washington for his previous job, but had to return to Los Angeles to pack his bags for a permanent move.
When not in a meeting or writing policy proposals, Nelson said he enjoys learning more about Washington with his husband and that he enjoys the setup and the ability to walk around the city. . When worries about the pandemic subside, he said he hopes to explore local museums in his spare time.
As with any new position, expect to acclimate to new colleagues and processes, he said. Additionally, Nelson has been in the building since 2018 as Professor Andrew W. Mellon, which made the transition even smoother, he said.
Nelson also said he enjoys working more directly with others as a dean. He described his past academic work as isolating, saying researching and writing can be a more lonely process.
"Being part of a larger management team has been really energetic," he said. "I am a social animal and I really love being part of a team that is charting the way forward for an institution.
When editing doctoral applications. programs in the late '90s, Nelson said he rarely included his gay identity in his admission documents, despite having his black identity noted in all of them.
"A friend of mine said to me, 'Why wouldn't you want to participate in all these apps? If you're not going to go out, why would you go to xyz institutions? ' I took this to heart and decided to be open, "he said.
Since then, Nelson has said he's always been open about his sexual orientation and it has had an impact on how he does his research, his approach to the world and his work. He also plans to promote inclusion and diversity at all levels at the gallery.
"As a black, gay and left-handed person, this is important to me. My greatest hope is that the museum will not only diversify, but also be a leader in opening up avenues, "he said. "We are working on ways to do it. "
Identity has had an impact on the work Nelson has done in the past, and he said he hopes to "get the needle rolling" for others. He also said that his experiences as the only African American in the room on several occasions in his life affected him greatly, and he said he was eager to promote inclusion and diversity at the gallery for make this reality less common in the future.
Nelson is currently developing a new strategic plan for the Center for Advanced Study in the Visual Arts and is finding ways to keep the center at the forefront of the entire gallery.
It also examines diversity and inclusion measures that can be taken to make several aspects of the museum more inclusive, including making attendants and staff more accepted.
Agreeing with the rest of the gallery, he said he hopes "to create an institution which promotes excellence in scholarship, which is accessible and which is part of a wider creation of gateways to the profession for the youngest.
With ever-changing health and safety guidelines, Nelson said the future of museums was going to be different. He said he sees more digital programming coming in and less focus on physical spaces. New museums and galleries are less likely to emerge, he said.
Following this vision, the National Gallery of Art has already offered online programs, such as lectures, screenings and blogs. The gallery also partially reopened to the public in mid-July, allowing people to view the exhibition from the ground floor with timed entries, face coverings and social distancing.
For the Center for Advanced Study in the Visual Arts, Nelson said digital events have been at the forefront of programming for years – the circumstances of the pandemic haven't made a significant difference. He plans to continue these events for years to come.
Nelson said his favorite aspect of teaching at UCLA was the students. UCLA's art history and African American studies programs are also very diverse, with students from a multitude of backgrounds and experiences, he said.
While Nelson has said he is excited for the next steps to come, he will fail to teach students.
While completing his doctorate. at Harvard University, Nelson focused his thesis on African art. He was originally interested in the study of modern art, but learning African art changed his research path.
In 1993, Nelson traveled to Cameroon for a year to prepare his thesis on an Africanist art historian, which inspired him to delve into research on African art and continue to visit the continent. . Now he has visited Senegal and other countries.
He also wrote the book "From Cameroon to Paris: Mousgoum Architecture In and Out of Africa", which analyzes the residential architecture of the populations of the far north of Cameroon.